Hold onto your seat! This white-knuckled thriller starts out fast and keeps accelerating to the powerful ending.
What happens when a reclusive Alaskan suddenly finds his best friend and a small army of mercenaries are after him?
They never should have messed with Dylan Baker!
Click
here
to learn more.
.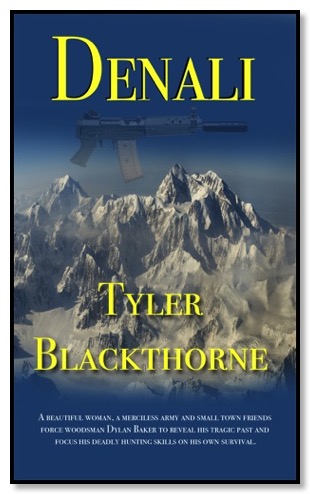 Reviews
Couldn't put it down!
- Roger Hansen


This book made me feel like I was along for the journey like no other book I have ever read. Can't wait to see more work from Tyler Blackthorne.
- Douglas Henke
The suspense is gripping throughout the page turner. Thank you Tyler Blackthorne for a great read. I highly recommend it for all.
- Milo A Doran


I started reading Denali and could not put it down (in spite of a cold - hence the Kleenex) until I was finished
. - Irene McConaghy


The unforgiving land and unique people that live there are true to character. I don't want to spoil anything for readers so I will just say read this if you like a good thriller crossed with a wilderness survival story!
- Sig Anderson


Believable main character, fast paced storyline, and authentic Alaska. It's all there.
- Josh Ernst


It's a great book for a thriller-lover or a fan of the great outdoors.
- Lindsey Lapointe


If you enjoy stories about outdoor adventures and drama, this is a book that will keep your interes
t. - Larry Vorwerk


A fast-paced thriller that snared me with evolving characters and the natural beauty of Alaska!
- Bugsy


The story kept me interested and involved. Hope to read more from this author
. - Jeff Bloom


This book drew me in from the first page. I couldn't wait to find out who was hunting Dylan and if he would survive the trek to Denali!!
- Susan Edmonson


Hard to put down as Mr. Blackthorne takes you from mystery to reality!
- Judy Wylie


Blackthorne generously meted out plot developments, alternately intriguing and surprising me!
- Ed Reese


The story-line is gripping, the action is intense and each chapter leaves you yearning for more! Can't wait for the sequel...
- Bryan


I would recommend this book to anyone!
- Ken


A fast read and now I cannot wait to travel to Alaska. The details of the setting are so descriptive
. - Martin Jensvold


Cool premise and amazing setting. I definitely recommend this book!
- Elizabeth